More Success for WSEH Middle Distance Runners in July 2022!
European U18 Championships Jerusalem 4th – 7th July
The European U18 Athletics Championships were established to provide a stepping stone for talented 15 to 17 year old athletes to the U20 age group. With 992 athletes from 48 countries represented, just gaining selection to represent Great Britain was an achievement in itself. Luke Birdseye and Rachel Clutterbuck competed in the Men's and Women's 2000m steeplechase respectively and had a fantastic 1st experience of competing in an in an international track championships. Luke finished a fine 4th with an 8 second PB of 5:44.57 while Rachel, who is at the lower end of the age group, finished 9th in her heat, just missing out on a place in the final.
Results here.
English Schools Athletic Association Championship (ESAA) Championships
The club had 15 middle distance representatives in the ESAA Championships which were held on 6th and 7th July in Manchester and some excellent results were achieved.
Freya Ruffels (with a PB of 4:56.87) and Ella Davey (with a PB of 4:58.12) finished 1st and 2nd in the Inter Girls' 1500m Steeplechase gaining selection to represent England Schools at the Schools International match in Belfast on 16th July. Jess Hatch won the Senior Girls' 1500m Steeplechase in a PB and ranking topping 4:54.10 with Keshni Manek also running a PB of 5:12.74 for 6th. Sam Hodgson had an excellent run in the Senior Boys' 3000m taking 2nd place. Josh Mingoia and George Thomas came 4th and 10th respectively in the Inter Boys 1500m Steeplechase, Jasmine Young was 4th in the Senior Girls' 3000m and Jake Meyburgh ran a PB of 4:09.77 for 6th in the Junior Boys' 1500m.
Event videos available here and results here.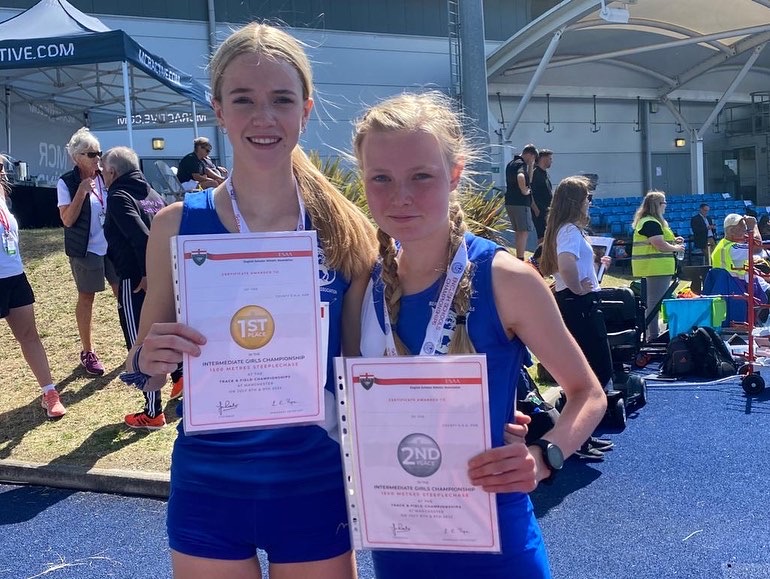 SIAB Schools International
In the Schools International held in Belfast on 16th July, Ella Davey finished 1st in a PB of 4.53.98 which puts her top of the UK rankings for 2022. Freya Ruffels finished 2nd.
England U20 Championships
The England U20 and U23 Championships were held at Bedford on 16th July. Jasmine Young finished a fine 3rd in the U20 Women's 3000m and Luke Birdseye also finished 3rd in the U20 Men's 3000m Steeplechase in a PB of 9:20.08 which puts him 4th in the 2022 rankings.
Jess Hatch was 3rd in the U23/U20 Women's 3000m Steeplechase in a PB of 11:01.86 which puts her 2nd in the U20 rankings and Keshni Manek was 6th in the same race. Sam Hodgson was 6th in the U23/U20 Men's 5000m.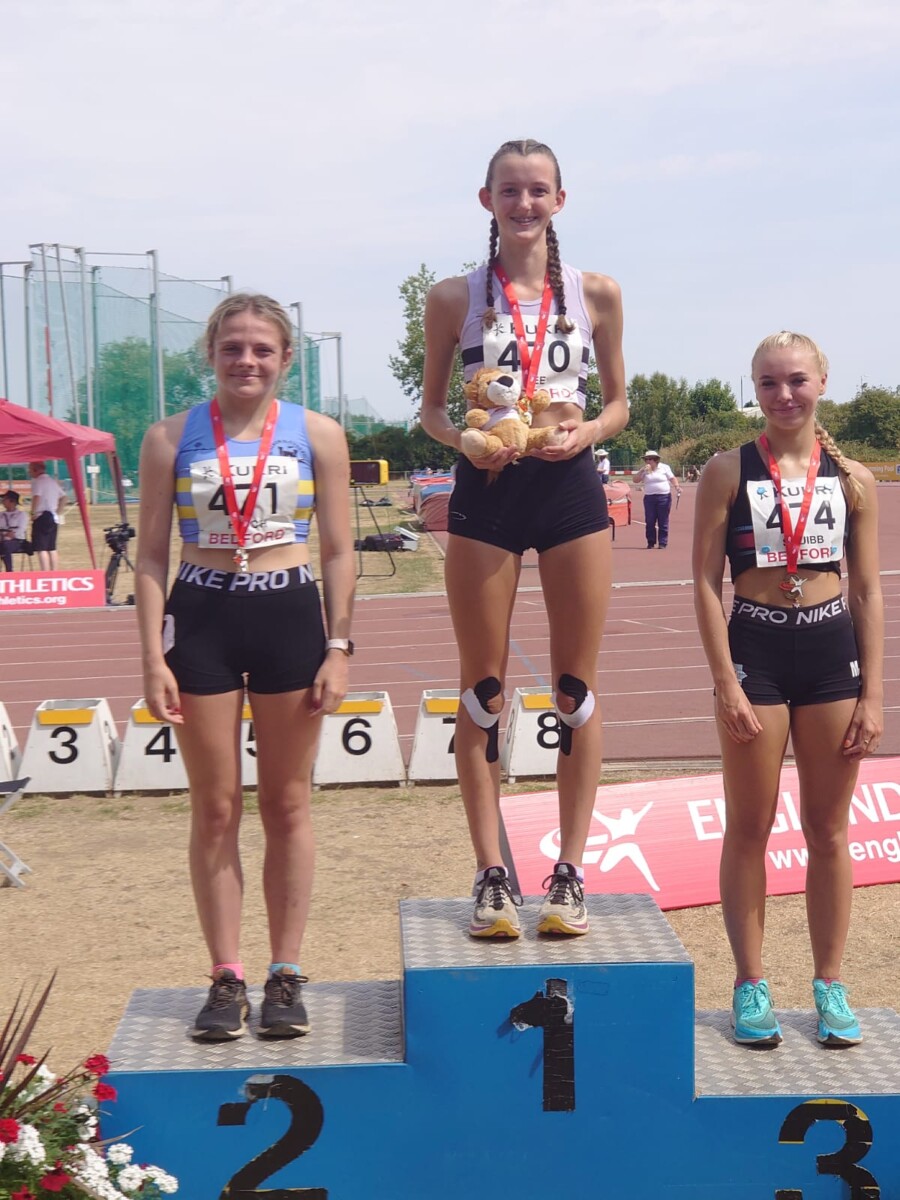 Meeting Commonwealth Games 1500m stars!
Two of our athletes, Zoe Allan and Jake Meyburgh were lucky enough to be at the Alexander Stadium on the final weekend of the Commonwealth Games to watch some fantastic 1500m races. Jake saw the men's final and managed to get an autograph from bronze medallist (and World champion) Jake Wightman and a photo with both Jake Wightman and winner Ollie Hoare of Australia. Zoe watched Laura Muir take 1500m gold and was delighted to receive a hug from the champion after the race.