Seniors
Seniors are men and women who are at least 20 as of 31st December 2023.
Athletes making the transition from juniors to seniors is a key event in their development and often follows athletes having had a great time training and competing as a junior. Representing your club for the first time as a senior is a proud moment and ahead lies a great future of being an athlete during what is regarded as an athlete's peak years.
We are committed to providing an environment that is welcoming to all, is a fun, positive environment for athletes, volunteers & parents and we support the physical, emotional and social development of all our members. For our seniors, the club provides experienced, qualified coaches who deliver high quality training sessions, focusing on athlete's individual development.
Club training nights are on Tuesday and Thursday evenings, at Thames Valley Athletic Centre in Eton, from 6pm. Some training groups start later and some have additional sessions on other days, either at Thames Valley Athletic Centre or at other locations across the area. For more information on training, please see here.
With regard to competing, we expect all our athletes to compete and view athletic competitions as a priority for our athletes to both enjoy competing for the club in team-based events and to be a key part of their own development.
We have a highly successful senior section and we are proud to be one of the top sixteen clubs in the country who compete in the National Athletics League Premiership Division. We target qualifying for the National Finals each season, which is for the top 8 clubs. We achieved this in 2021 and 2022. This year we finished 4th!. Our seniors also compete in the top division of the Southern Athletics League, which offers really good competitive athletics for athletes across the club. In 2021 we finished 2nd, in 2022 we finished just 2 points behind the winners and this year we finished 3rd.
The club provides opportunities for seniors to compete throughout the whole calendar year. In the summer competition year, (1st April to 30th September), this is mainly track & field and in the winter competition year, (1st October to 31st March), this includes road running, cross country and indoor track & field. The club therefore races all year round, so for many members who are runners, they have a 12-month competition year to race and compete for the club. For more information on competitions, please see here.
"At the club I like that I get to train with a variety of athletes, I have plenty of competition opportunities and it is a quality track to run on".

An athlete.
"My coach always made me feel like anything was possible…..and it was…..now I've retired from athletics, it still is !"

An athlete. Still holder of two UK age group records.
Alex Haydock-Wilson wins the 400m final at the Muller UK Athletics Championships in Manchester, July 2023 (Credit-Alamy-Stock-Photo)
Jake Norris celebrates winning the gold medal in the hammer at the Muller UK Athletics Championships in Manchester, July 2023 (Credit-Alamy-Stock-Photo)
Jessie Knight winning the 400m hurdles final at the Muller UK Athletics Championships in Manchester, July 2023 (Credit-Alamy-Stock-Photo)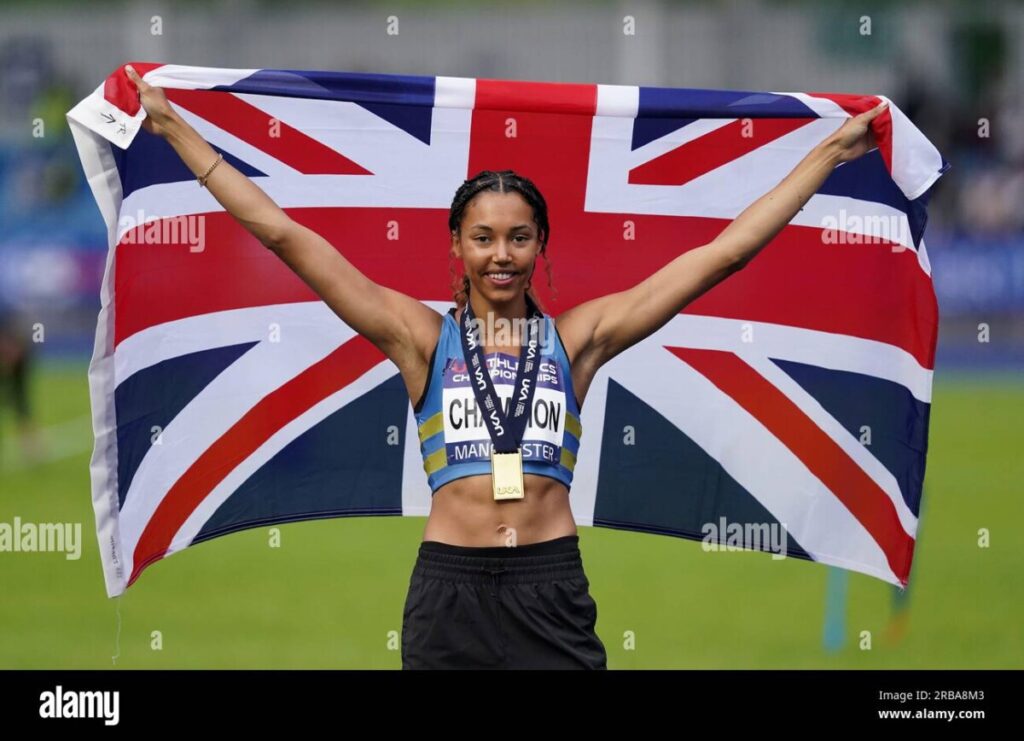 Morgan Lake celebrates winning the gold medal in the high jump at the Muller UK Athletics Championships in Manchester, July 2023 (Credit-Alamy-Stock-Photo)
Tade-Ojora celebrates winning the golf medal in the mens 110m hurdles final at the Muller UK Athletics Championships in Manchester, July 2023 (Credit-Alamy-Stock-Photo)