Steeplechase and road and cross country relay success for WSEH AC's young middle distance runners
The club's young middle distance runners achieved some notable performances during September and October at the end of the summer and during the start of the autumn/winter season.
SIAB Schools Home International
The prestigious SIAB Schools Home International took place in Derby on 25th September with 1st and 2nd placers in the Intermediate English Schools Athletics Championships in July selected to represent England against athletes from Scotland, Ireland and Wales. Shireen Higgins' steeplechase squad took three of the four English 1500m steeplechase spaces with top ranked Rachel Clutterbuck and 3rd ranked Freya Ruffels placing 1st and 2nd in the U17 Women's race and UK number 1 Luke Birdseye remaining unbeaten in the steeplechase in 2021 after winning the U17 Men's race.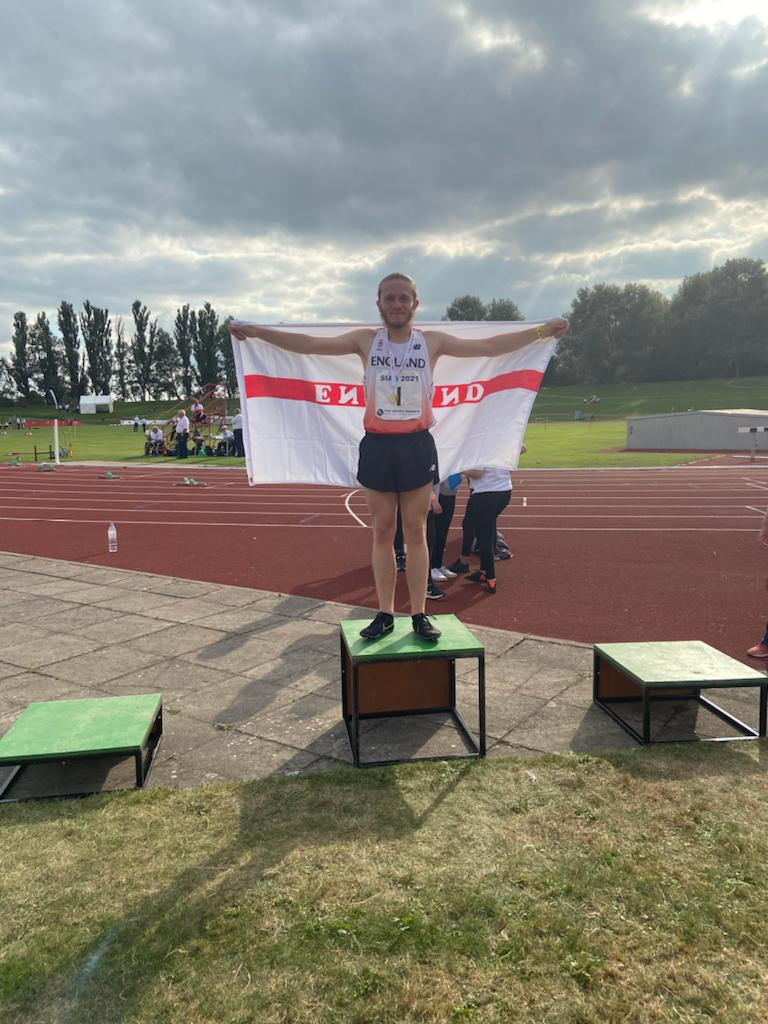 Virgin Money Giving London Marathon Mini Marathon
The Virgin Money Giving London Marathon Mini Marathon was held on Sunday 3rd October with Jake Meyburgh winning the U13 Boys British Athletics Road Championship race. Luke Birdseye (U17 Boys), Rachel Clutterbuck and Freya Ruffels (U17 Girls) and Phoebe Fuller (U13 Girls) also represented the South East in their respective age group races.
ERRA National Road Relays
On Saturday 9th October the ERRA National Road Relays took place at Sutton Park, Birmingham. Another successful day for WSEH's athletes saw the U13 Boys' team of James Farley, George Hilliar and Jake Meyburgh take the silver medals. Jake also ran the fastest lap of the race recording a time of 12:16 (31 seconds faster than the next fastest leg) whilst moving the team up from 15th to 2nd. The club's U13 Girls team of Phoebe Fuller, Zoe Allan (12th fastest) and Tara Ferguson finished an excellent 6th place in their 1st year of competitive racing. In addition, the U15 Boys' team of Ben Dewar, Sarim Toqeer and Guy Branston finished 18th, the U15 Girls (Stephanie Massie, Abigail Farley and Summer Chapman) 15th, the U17 Men (Luke Birdseye, George Thomas and Josh Mingoia) 11th and the U17 Women (Freya Ruffels, Charlotte Dewar and Rachel Clutterbuck) just missing out on a medal in 4th with Freya Ruffels recording the 9th fastest lap and Rachel Clutterbuck the 12th fastest.
Full results available here.
SEAA Cross-country Relays
Last but not least the SEAA Cross-country Relays were held at Wormwood Scrubs on Saturday 23rd October. A very successful day's racing included 2 gold and 2 silver medals for the club. In the 1st race of the day Jasmine Young, Katie Clutterbuck and Amy Young took 1st place in the U20 Women's category with Jasmine and Katie recording the 3rd and 5th fastest times respectively.
In the U13 Boy's race, George Hilliar, James Farley and Jake Meyburgh won by 50 seconds with Jake again recording the fastest lap of 6:25, some 35 seconds faster than the 2nd fastest time. James and George ran the 8th and 9th fastest times respectively. The B team of Aaron Shiel, Blas Rivero-Stevenet and Oliver Bedford took a fine 6th place whilst Narayan Bhambra and Josh Jarvis formed an incomplete C team.
The U13 Girls team of Zoe Allan, Tara Ferguson and Phoebe Fuller came an excellent 2nd with Zoe recording the 3rd fastest time and Phoebe the 9th fastest. The B team of Lola Williamson, Grace Hughes and Sofia Sabbah were 13th.
The 2nd silver medal was won by the U17 Girls team of Rachel Clutterbuck (3rd fastest lap), Nathalie Camp and Jessica Hatch, closely followed by the B team of Keshni Manek, Kiki Webb and new joiner Jemima Ridley in 3rd place. Sadly for the B team girls, SEAA rules prevent clubs from winning 2 team medals in 1 race. The C team of Amelia Murphy, Jemima Davies and Charlotte Borgars finished in 12th and Tamara Hibbins ran the 1st leg for an incomplete D team.
The U17 men's A team of Alex Bishop, Luke Birdseye (9th fastest lap) and Sam Nesbitt finished in 7th place, closely followed by the B team of George Thomas, Oliver Emment and Toby Spencer in 11th with the C team of Daniel Hasan Diaz, Josh Mingoia and Julian Abass in 15th.
Two closely matched U15 Boys teams finished in 8th and 9th places with Jack Phillpotts, Ben Dewar and Alexander Didaskalou in 8th and Marcus Hibbins, Thomas Taylor and Nathan Rollins in 9th. The C team of Guy Branston, Sohan Nath and James McSharry finished 16th with Samuel Golding and Sam Thuo racing as an incomplete D team.
Our U15 Girls A team of Eloisa Symonds, Abigail Farley and Stephanie Massie finished 6th with the B team of Aashni Manek, Sorcha Lally and Chloe Murphy in 24th. Annabel Bailey ran the 1st leg in an incomplete C team.
The U20 Men's A team of Thomas Chandler, Samuel Hodgson and Liam Stone was unlucky not to get 3rd place, losing out by just 4 seconds although Liam ran the 3rd fastest leg of the race. The B team of Matty Smith, William Goddard and Jordi Evans-Rodriguez were 5th and the C team of Raphael Rivero-Stevenet, Christopher Baker and Ross Van Heerde finished 10th.
Full results available here.