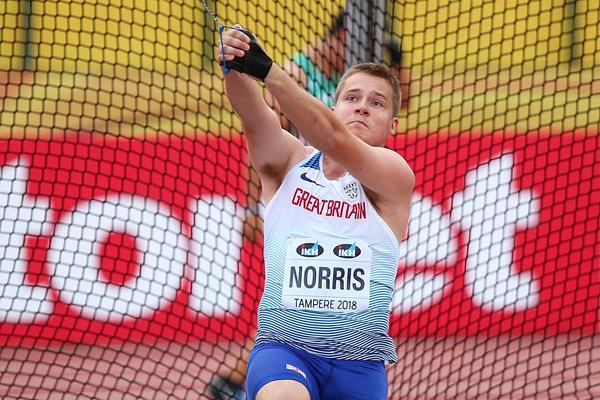 The club
Windsor Slough Eton & Hounslow Athletic Club, one of the UK's premier athletic clubs, offers coaching across all events and for all standards from age 10 upwards (younger children can join WSEH Juniors).  Based at the Thames Valley Athletics Centre in Eton, club members have access to a range of qualified and experienced coaches, an 8-lane all-weather track, an indoor facility with facilities for long jump, triple jump, high jump, shot putt, and pole vault and a weights room.
Athletes can participate in a wide range of events and competitions suitable for beginners through to international athletes.
Existing Members: To renew your membership, amend contact details, find information about the latest fixtures and team selections and register availability for competitions, please visit the Myclubhouse membership online platform. 
Prospective new members find out more about joining WSEH AC here.
Our history
WSE&H has a long history. The original Slough Cycling & Athletic Club was formed in the 1880s and was renamed Slough Harriers in 1920, becoming Slough Athletic Club in 1946 after World War II. A breakaway group formed Eton Athletic Club in 1948, moving to Windsor to become Windsor & Eton Athletic Club in 1953. With the advent of league athletics in 1968, Windsor & Eton AC and Slough AC merged to form a unified club called Windsor Slough & Eton AC which was based in Windsor.
In 1999, Windsor Slough & Eton AC moved to their present base at the Thames Valley Athletics Centre and in 2000 merged with Borough of Hounslow AC to become today's Windsor Slough Eton & Hounslow AC (WSE&H AC), 
Well-known past members include Paula Fudge (former World record Holder 5,000m, 1981), Keith Connor (1984 Olympic bronze medallist, Triple Jump), Nicola Sanders (2007 world championship silver medallist, 400m) and Lawrence Clarke (2012 Olympic Games 110m H, 4th).
The club's most famous past member is probably Sir Mo Farah, the most successful British track athlete in modern Olympic Games history. Mo ran for Borough of Hounslow AC as a schoolboy athlete but switched to London based Newham and Essex Beagles athletics club as a senior athlete.
Seniors
WSE&H has a very successful senior section with members including Great Britain international athletes Ashley Bryant (decathlon), ), Taylor Campbell (Hammer), Jessie Knight (400m & 400m hurdles), Morgan Lake (high jump) and Shelayna Oskan-Clarke (800m). In addition 800m runner Zak Curran is an Irish international.
Leading senior athletes can represent the club in the Premiership division of the joint men and women's National Athletics League track and field competition but there are opportunities throughout the year for all seniors regardless of age or ability to compete across all categories and levels of the sport including track and field, cross country and road running.
Juniors
The club has a thriving junior section. Aspiring young runners, jumpers and throwers can benefit from the experience of qualified coaches and ex international athletes whilst training within groups of young athletes of the same ages and abilities from year 6 right until they leave school and go to university or start work. We know that all young people have different goals and ambitions but encourage every individual to both set and reach their own targets, from a personal best performance to county, regional, national and even international representation.
A number of the club's current young athletes (including Alex Barbour (3,000m steeplechase), Will Barnicoat (cross country), ), Bayley Campbell (Hammer), Alex Haydock-Wilson (400m), Jake Norris (Hammer), Tade Ojora (110H) and Marcey Winter (400H)), have gained British international vests in recent years.
Young athletes will have the opportunity to compete in inter-club leagues, county, schools, open meetings, regional and national championships (track and field in the summer and cross country, road and indoor tracks in the winter). 
Athletes/parents/carers of athletes who already know which event they want to specialise in should visit the coaching page and make contact with the relevant coach(es) to discuss next steps.
Beginners – The WSE&H Academy
Young athletes from the age of 10 (up to 14) who think that athletics could be the sport for them but do not know which event(s) they would be best suited to, are welcome to join the club's Academy.
COVID-19 Update 26th August 2020
As we do not have access to Datchet & Eton Leisure's indoor spaces due to COVID-19 restrictions, the Academy is currently running only on Tuesdays for a small number of current members. In addition, a parent/carer of all athletes accepted into the Academy and attending Academy sessions must stay on the premises whilst training sessions are taking place.
We are sorry but due to COVID-19 restrictions, the club is unfortunately not able to take any new members or hold a waiting list for the Academy at the moment. We request that parents/carers of any children interested in joining the Academy wait until the end of October before getting in touch via the Contact Us form when we hope to be better able to assess whether we can hold some trial sessions and take on new athletes.
If you have a child/children who are really keen and know what type of event they want to do, some of our coaches are still taking new young athletes into their squads and offering trial sessions. Please visit the Coaches' section of the website for more details.