Windsor athletes shine in the rain getting in 1 last race before 2nd lockdown
In the current climate of Pandemic and lockdowns, races are hard to find and no surprise then that this series of 3 races attracted a large number of WSEH athletes to enter. Merchant Taylor's School in Hertfordshire played host to the race organisers, who provided a well organised series of mixed, age-group races – despite heavy rain and strong winds! COVID rules meant racers had to start in small pods of six runners and chip timing would determine success.
The mixed U11 Boys and Girls kicked off the event, with Windsor represented by some promising newcomers. George Hilliar was 4th overall, Zoe Allan 6th girl (17th overall), Logan Hardy 26th and Scarlett Rickerby 29th girl (68th overall) – despite the appalling conditions, all were smiling and are looking forward to future races.
The U13 event saw many more runners (some making their debuts) and more success. Marcus Hibbins led the field home and was ably backed up by Thomas Taylor in 4th, Sam Golding 18th, Evan Hardy 19th, Sarim Toqeer 20th, James Farley 21st, Toby Kimmins 24th and James McSharry 51st.
The girls performed well with Phoebe Fuller 18th girl (49th overall), Abigail Farley 24th girl (54th overall), Ana Passos 31st girl (70th overall) and Stephanie Massie 32nd girl (72nd overall).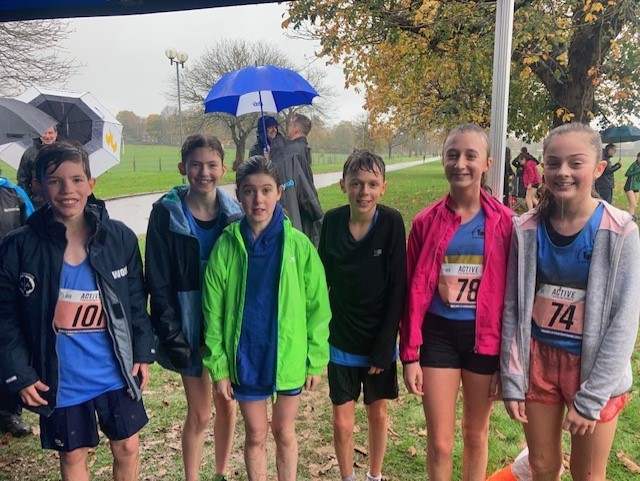 The U15 runners matched these successes with 4th and 7th in the boys – Alex Bishop and Sam Johnston and 1st and 3rd in the girls – Rachel Clutterbuck and Freya Ruffels. Strength in depth was again evident with George Thomas 14th, Toby Spencer 22nd, Nathan Rollins 28th and for the girls Daya Baga 16th, Eloisa Symmonds 25th, Annabel Bailey 35th, Aashni Manek 37th and Amy Cooper 40th.
The U17 men achieved success too, with 2nd, 3rd and 4th places for Raphael Rivero-Stevenet, Luke Birdseye and Oliver Emment. They were backed up by Liam Stone 13th, Finlay Kirk 14th and Finn Canning 22nd.
The U17 women ran well with Charlotte Dewar 6th, Keshni Manek 9th, Jessica Hatch 11th, Tamara Hibbins 14th, Charlotte Borgars 17th, Tia Hansford 19th and Jodie Bongartz 20th.
The biggest field of the day was the U20 and Seniors with 237 finishers. Katie Clutterbuck was the club's only representative at this age group but more than justified her presence with 6th overall and 1st U20 woman.
Subject to the easing of Lockdown restrictions, December 19th sees the second round of this 3 race series and Windsor Athletes – boosted by returning athletes from University – hope to see even more success.
John Higgins
WSEH Coach & CWO