More great performances by the club's middle distance runners in December 2022 and January 2023
Following on from the excellent results achieved in the autumn relays at the end of last year, the club's middle distance runners have achieved more success during the cross country season.
British Athletics Cross Challenge Milton Keynes
The first major race for most of our runners was the British Athletics Cross Challenge combined with the Chiltern League held at Teardrop Lakes Milton Keynes on Saturday 12th November. With races for all ages including Under 11s, it was an opportunity for some of our youngest members to compete.
In the U11 Girls' race, Betty Kellerman and Katie Muir had excellent runs to come 2nd and 3rd in the Cross Challenge category (15th and 19th overall) with Georgina Bedford finishing 34th.
We had more success in the U11 Boys' race where Barney Hilliar was 2nd, Ted Bainbridge 3rd, Joshua Smith 11th and Harrison Stachowiak 24th. Barney, Ted and Joshua were 1st, 2nd and 3rd in the Cross Challenge category.
Running for the South of England in the U20 Men's inter area match, Luke Birdseye was a clear winner with Sam Hodgson, recovering from illness in 18th. William Goddard was 49th, Jordi Evans Rodriguez 50th and Satvik Nath 51st.
In a high-quality combined U20/U17 Women's race, U20 Jemima Ridley, running for the South of England was a fine 11th and U17s Rachel Clutterbuck, Ella Davey and Milie Murphy were 24th, 31st and 64th respectively.
Zara Davey was 12th in the U13 Girls' race with Zlata Osipava 32nd and Ellouise James 35th.
Stephanie Massie came 8th in the U15 Girls' race with Abigail Farley 25th and Ana Passos 27th.
George Thomas was our 1st finisher in 24th place in the U17 Men's race. He was closely followed by Ben Dewar in 32nd with Sohan Nath 58th. Sam Thuo, Oli Bedford and Ben Young ran in the U15 Boys' race and finished 40th, 45th and 78th whilst Axel Norlin was 40th in the U13 Boys' race with Euan Totays 58th and Harry Welch 61st.
Senior Man Alex Tovey finished 56th and Simon Millett finished 77th and Charlotte Firth was 45th in the Senior Women's race.
European Cross Country Championships
After coming 3rd in the U20 Men's race in the British Athletics Cross Challenge selection race in Liverpool on 26th November, Luke Birdseye represented Great Britain in the European Cross Country Championships in Turin, Italy on 11th December 2022. The race was won by Will Barnicoat of GB and Luke finished a brilliant 5th helping the GB team to the gold medals. Full results here.
Berkshire Road Running Championships
Ben Rowe won the Berkshire Road Running Championships for 2022. To qualify for the championships, runners had to complete 4 out of 5 races (a local 10K, 10 mile and half marathon race with an option to run any Spring marathon) during 2022 with points awarded for finishing positions. Ben finished 1st Berkshire runner in 2 of the races and 2nd in 2, giving him a total of 38 points to take the title by a clear 10 points. Full results here.
Berkshire County Cross Country Championships
The Berkshire County Cross Country Championships were held at Coppas Farm, Cookham on Sunday 18th December 2022. The 1st 8 finishers in each race will have the opportunity to represent Berkshire in the Inter Counties Championships to be held in Loughborough on 11th March 2023.
The club had a 1, 2, 3 in the U20 Men's race which was won by Sam Hodgson with Frank McGrath 2nd and Will Goddard 3rd. Also running were Jack Campbell (6th), Jordi Evans-Rodriguez (9th), Ross Van Heerde (10th) and Satvik Nath (11th) and the club were 1st and 3rd in the team competition.
Jemima Ridley was a runaway winner in the U20 Women's race and with Jessica Hatch 3rd and Keshni Manek 4th, the club also won the team prize. Cara Terry finished 7th.
We had a 1, 2, 3 and 4 in the U13 Girls race. Zoe Allan was 1st, closely followed by Tara Ferguson (2nd) and Eva Dias (3rd) to take the team win. With Quinn Bookless in 4th and Zara Davey 8th, the club will have 5 of the 8 county places in the inter county championships for that age group. In addition, Zlata Osipova was 13th, Ellouise James 15th, 16 Roxie Heffer 16th and Nihaal Rasheed 19th.
Guy Branston took his 1st county title in the U15 Boys' race with Tedy Silvey 5th, Toby Holmes 14th and Ollie Bedford 18th.
Abigail Farley was another winner in the U15 Girls' race with Ana Passos 8th, Maizie Tearle 13th and Sofia Sabbah 18th.
Club representatives also placed 1st, 2nd, 3rd and 4th and took team gold in the U17 Men's race with Josh Mingoia 1st, George Thomas 2nd, Callum Welch 3rd (winning team) and Ben Dewar 4th. Dylan Bavazzano was 7th and Sohan Nath 9th.
Our U17 Women also won the team gold with Ella Davey 2nd, Jacqueline Heller 4th and Eva Bartlett 5th. Aashni Manek was 9th and Millie Murphy 10th.
In the U13 Boys' race, our 1st finisher was George Hilliar in 5th, Archie Charles was 7th, Joseph Brooker 9th, Euan Totays 11th and Harry Welch 12th.
Matthew Clutterbuck finished 10th in the Senior Men's race with coach and parent Phil Branston finishing a fine 34th. Charlotte Firth was 2nd in the Senior Women's race supported by Amber Clarke in 6th, Katie Clutterbuck 8th, Izzy Rayner 9th and Amy Young 10th. The team was 2nd. Full results here: http://www.berkshireathletics.org.uk/content/berkshire-xc-champs
Not to be left out, our U11 runners also had their own race at the County Championships. Ted Bainbridge and Barney Hilliar were 1st and 2nd and Luke Brooker 11th in the boys' race and Emma Casasus Vie was 1st U11 girl with Lyra Banham 2nd, Florrie Morgan 3rd and Betty Kellerman 4th.
Buckinghamshire County Cross Country Championships
The club also had a few athletes running in the Buckinghamshire County Championships at Ampthill on 7th January. Henry Johnston won the U17 Men's race and Sam Colley was 6th. Grace Colley was 5th in the U15 Girls' race and Honey Fitzgerald was 18th. William Howes was 12th in the U15 Boys' race.
Surrey County Cross Country Championships
The Surrey Cross County Championships were held in Croydon on 7th January 2023. Jake Meyburgh was 2nd in the U15 Boy's race and Stephanie Massie 7th in the U15 Girls' event.
Yorkshire County Cross Country Championships
Also on 7th January but much further afield, William Hapgood was 7th in the Yorkshire County Cross Country Championships U13 Boys race.
CrossCup Hannut, Belgium
Luke Birdseye (England) and Frank McGrath (Ireland) ran in the CrossCup Hannut in Belgium on 22nd January.
Luke ran a canny, tactical race to win by 5 seconds and Frank was 11th.
South of England Cross Country Championships
The South of England AA Cross Country Championships were held in Beckenham on Saturday 29th January and were the club's most successful ever.
Jake Meyburgh led from gun to tape in the first race of the day, the U15 Boys to take the win by just 2 seconds. Thibault Mingret was 42nd, Teddy Silvey 76th, James Mcsharry 79th, Sam Thuo 90th, Harry Roberts 106th and Toby Holmes 146th.
Our 2nd winner of the day was Sam Hodgson in the U20 Men's event where he broke clear in the 2nd half of the race to win by 16 seconds. After coming into the finishing straight in 4th, Luke Birdseye sprinted up the climb to take 3rd place. With Frank Mcgrath 21st and Will Goddard 23rd, the team won gold by 2 points from Tonbridge. In addition, Jordi Evans-Rodriguez was 46th, Satvik Nath 53rd and Ben Rowe 76th.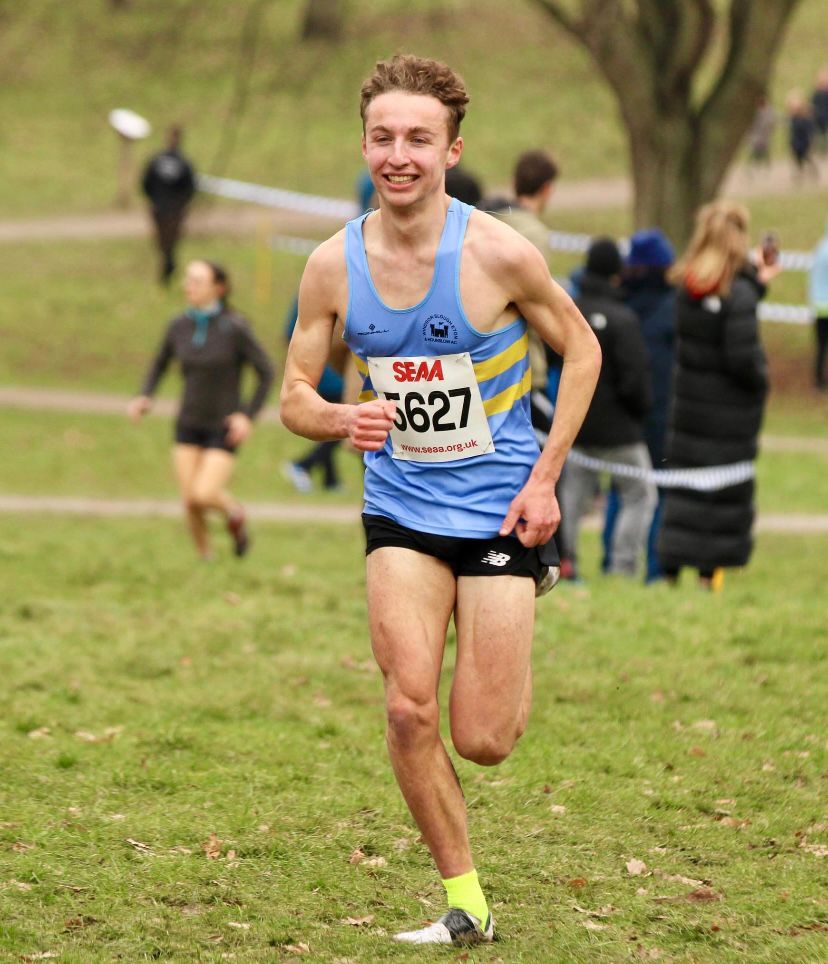 Our U17 Women were at the front right from the gun and Rachel Clutterbuck finished a well-deserved 3rd. With Ella Davey 5th, Eva Bartlett 12th and Aashni Manek 30th the team won gold by a clear 31 points. Millie Murphy finished 64th.
Good packing by our U17 Men gave them the team silver medal. Henry Johnston was 10th, George Thomas 19th, Josh Mingoia 36th and Sam Colley 49th. Also running were Callum Welch 118th, Sohan Nath 121st and Dylan Bavazzano 126th.
The U13 Girls' won a team bronze medal with Zoe Allan achieving a great 4the place. Tara Ferguson was not far behind in 9th, Eva Dias 26th and Quinn Bookless 54th. Zara Davey finished 73rd, Roxie Heffer 116th, Lola Williamson 160th and Nihaal Rasheed 169th.
Stephanie Massie was an excellent 8th in the U15 Girls' race with Abigail Farley 20th, Ana Passos 39th, Grace Colley 94th and Honey Fitzgerald 123rd.
Our U13 Boys' team finished just outside the medals in 4th place. William Hapgood was 12th, George Hilliar 26th and Joseph Brooker 38th. In addition James Hughes was 87th, Harry Welch 149th, Archie Charles 158th and Euan Totays 176th.
In the Senior Women's race Natalie Thompson (coached by Con Milton) was 49th.
Full results here: https://results.sporthive.com/events/7024716460568384256
Congratulations to all the junior athletes and their coaches Shireen Higgins and Paddy McGrath.