Best ever results for WSEH AC at Saucony 2022 English National Cross Country Championships
After missing a season due to Covid-19, the National Cross Country Championships returned to Parliament Hill, London on Saturday 26th March, the venue where it was due to take place in 2021. The course was as tough and muddy as always and for many of the WSEH AC athletes it was their chance to compete in their 1st ever national cross country.
With 3 top 10 placings and 3 team medals, it was probably the club's best ever national championship result.
Jake Meyburgh continued his winter success by taking an emphatic 21 second win in the U13 Boys' race. Backed up by James Farley 102nd, George Hilliar 119th, Aaron Shiel 170th, Bals Rivero-Stevenet 196th and Josh Jarvis 212th the team finished 15th.
Finishing in 8th place, Luke Birdseye led the U17 Men's team to a fine silver medal supported by Oliver Emment 15th, Frank McGrath 46th and Josh Mingoia 64th. In addition, Alex Bishop was 68th, George Thomas 136th, Toby Spencer 138th, Sam Johnston 188th and Julina Abass 250th.
Running her 1st ever race at national level, Ella Davey ran brilliantly for 6th place and with Abigail Farley in 39th, Eloisa Symonds 51st and Stephanie Massie 119th the team were highly delighted when they were announced as winners of the bronze medals. Aashni Manek was not far behind in 150th and Ana Passos finished 252nd.
The U17 Women were our 3rd team medallists with Rachel Clutterbuck 12th, Freya Ruffels 22nd, Jemima Ridley 25th and Kiki Webb 35th. Jess Hatch was just a few seconds behind in 37th, Lottie Dewar was 53rd, Keshni Manek 106th, Hannah Woolley 127th and Tamara Hibbins 140th.
Our U15 Boys' team also finished in 15th position with Benjamin Dewar 74th, Thomas Taylor 94th, Marcus Hibbins 102nd, James McSharry 179th, Jack Phillpotts 200th, Archie Robinson 202nd, Nathan Rollins 220th, Evan Hardy 236th and Sohan Nath 314th.
Zoe Allan, with another year in the age group, was our best placed U13 Girl, finishing in 23rd place. Tara Ferguson, who also has another year as U13 was 60th, Phoebe Fuller 143rd and Sofia Sabbah 374th
Sam Hodgson was our top finisher in the U20 Men's race with an excellent 24th position. Along with Matty Smith in 46th, Tom Chandler 58th and Charles Kershaw 65th, the team just missed out on a podium place, coming 4th. In addition, Liam Stone was 75th, Raphael Rivero-Stevenet 108th, Will Goddard 111th, Jack Campbell 138th, Luke Hynes 157th and Jordi Evans-Rodriguez 166th.
Following up from her strong run in the Southern Championships, Jasmine Young finished 28th in the U20 Women's race, with Lily Rolfe finishing 98th.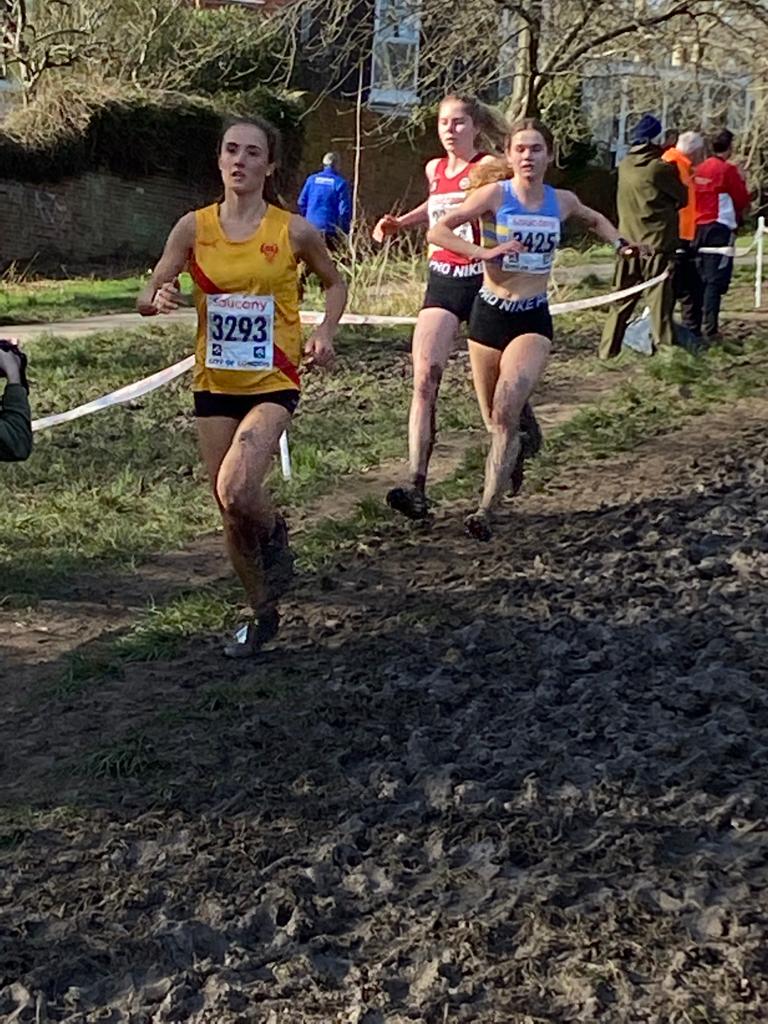 The Senior Men's event was the largest race of the day with 2,089 finishers. With 6 to score, Marcus Shantry finished 109th, Sebastian Cirillo 225th, Hugo Donovan 285th, Mark Vardy 350th, James Walker 677th and Toby Rowlands 885th the WSEH team placed 32nd.
Sadly the club wasn't able to finish a team in the Senior Women's race. Out of 1,011 finishers, Isabelle Rayner was our 1st Senior Women's representative in 168th with Natalie Thompson 364th and Juliet Soane 692nd.
Congratulations to coaches Shireen Higgins, Patrick McGrath, Trevor Raggett and Conrad Milton.
Full results available here.