WSEH AC Top Team at South of England Cross Country Championships
The 8 medals (3 gold (1 individual and 2 team), 3 silver (2 individual and 1 team) and 2 team bronze) won by WSEH AC athletes at the 2022 SEAA Cross Country Championships held at new venue Beckenham Place Park on Saturday 29th January, put the club at the top of the medal table ahead of Aldershot Farnham & District with 6 medals.
The 1st gold medal of the day came from Jake Meyburgh who was a clear winner in the U13 Boys' race. Excellent runs by Thibault Mingret (running in his 1st ever club race) in 13th, James Farley in 31st and Finn McKay in 50th rewarded them with the bronze team medal. Aaron Shiel was not far behind in 59th, Blas Rivero-Stevenet 66th and Ollie Bedford 132nd.
Ella Davey, another newcomer to this level of competition raced to a brilliant 2nd place in the U15 Girls' event, moving through from 4th in the last 800m. With Eloisa Symonds in 34th, Abigail Farley in 40th and Stephanie Massie in 58th, the team took another well-deserved bronze medal. Also running were Aashni Manek who finished 82nd and Ana Passos who was 102nd.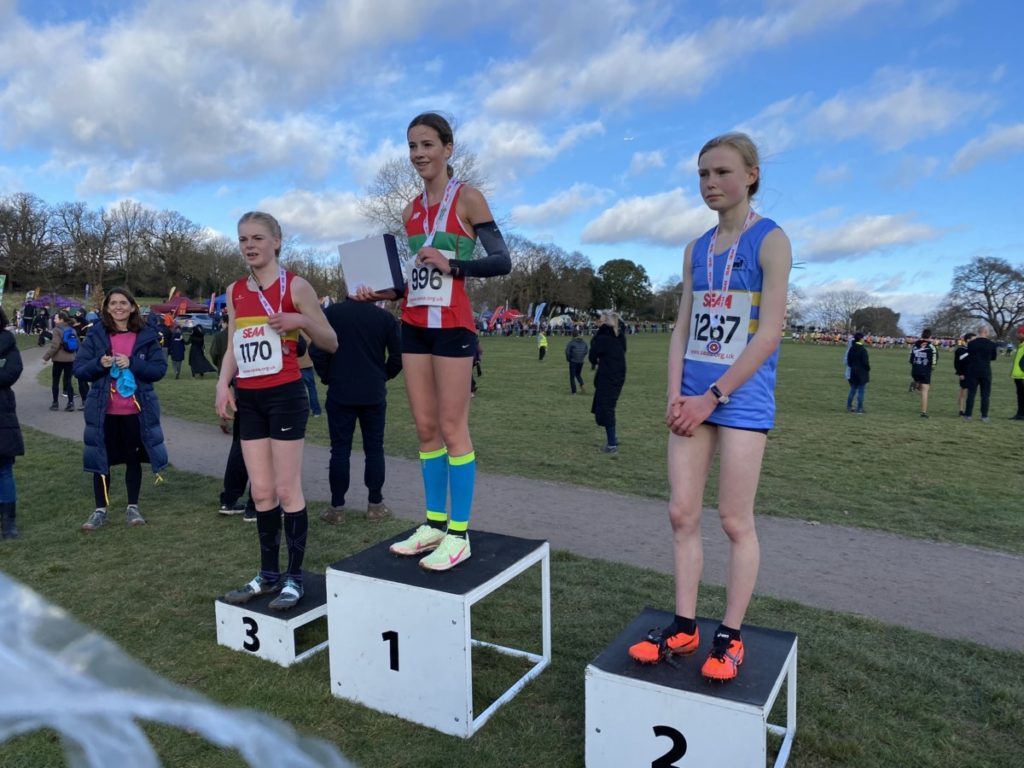 At the front from the gun, Luke Birdseye also had a fantastic race and finished in 2nd place, leading the team to the silver medal position with Oliver Emment in 10th, Frank McGrath 21st and Sam Nesbitt 43rd. George Thomas was close behind in 55th, Toby Spencer 70th, Josh Mingoia 72nd, Sam Johnston 87th and Julian Abass 123rd.
Our next gold medal came in the U17 Women's race where Rachel Clutterbuck (7th), Jemima Ridley 12th, Kiki Webb 17th and Jess Hatch 20th finished 43 points ahead of 2nd placed Crawley. Keshni Manek was not far behind in 34th, Hannah Woolley 39th and Millie Murphy 77th.
Last but definitely not least in the medal tally, the U20 Men's team took a well-deserved gold with an excellent 8th place from Sam Hodgson backed up by Liam Stone in 12th, Raphael Rivero-Stevenet in 14th and Matty Smith 22nd. Ross Van Heerde followed in 39th place, Will Goddard 51st, Finlay Kirk 52nd, Jack Campbell 56th, Luke Hynes 58th, Jordi Evans-Rodriguez 63rd and Ben Rowe 67th.
Jasmine Young, our only finisher in the U20 Women's race took a well-deserved 8th place.
Zoe Allan, with another year to go in this age-group, was our best-placed runner in the U13 Girls' Race finishing in 16th position. In addition, Tara Ferguson was 47th and Zara Davey 123rd.
Our team of U15 Boys finished in 8th place with Ben Dewar the 1st finisher in 33rd, Callum Welch 43rd, Guy Branston 70th, James McSharry 87th, Nathan Rollins 97th and Jack Philpotts 100th.
Alex Barbour showed that she is back to her best with an outstanding 9th position in a quality Senior Women's race and with Meg Ormond in 67th, Izzy Rayner in 90th and Natalie Thompson in 147th, the team finished in 9th place.
In the Senior Men's race which was the biggest of the day with 685 finishers, the club was sadly not able to field a team but Matthew Clutterbuck had a very good run to finish 102nd and Alex Webb finished 367th.
Overall it was a fantastic day out for the club and our best performance ever at these championships. A big thanks go to the coaches of all the athletes (Shireen Higgins, coach to every WSEH runner who finished in the top 10 in their race), Trevor Raggett, Con Milton and Patrick McGrath), assistant coaches, parents and supporters who helped to make it happen.
Full results are available here.